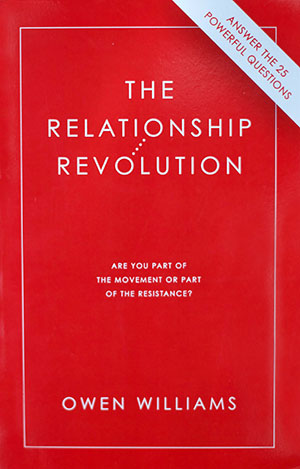 Any relationship can work.
In The Relationship Revolution, Owen calls on couples to stop working in their relationship and start working on it.
When couples work in their relationship, they compete against each other. They justify themselves, play the blame game, and compare each other's level of effort. It's not long before they say, "A relationship that takes this much work isn't worth saving."
When couples work on their relationship, they co-create the relationship they both dream of. Their focus is on the needs of the relationship. Instead of fixating on their individual shortcomings, they concentrate on the potential of what they can build together.
Then, as they discover what their relationship needs, each individual is naturally drawn to what keeps them from offering their best to the relationship. Before long the two — individually and together — evaluate their beliefs about themselves and the world.
While relatively untroubled relationships can easily fall apart under the first approach, relationships marked by infidelity, loss, betrayal, or long-term disconnection can make the journey back to health under the second.
Welcome to the revolution.
Order Your Copy of The Relationship Revolution